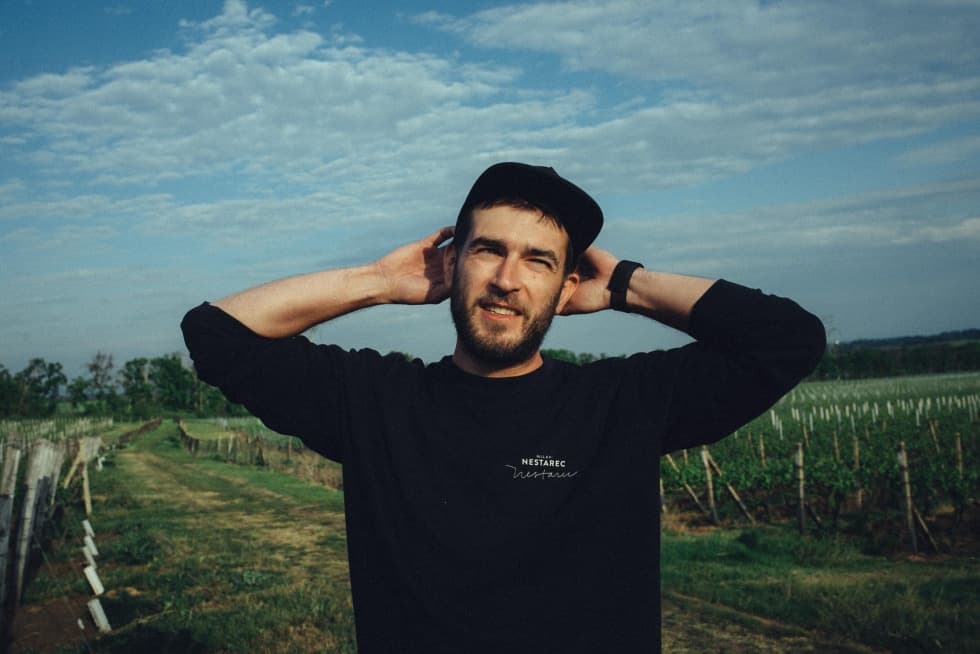 THIS IS NESTAREC – 3.8.2023
MASTER CLASS/DINNER/PARTY
This is Nestarec is Alma Prague's first event and the beginning of a series through which the restaurant team wants to showcase in detail the work of growers and artisans that influence and inspire them.
Milan Nestarec, the first of these inspirational creators, is a winemaker, a farmer, a visionary. His energetic, bullshit-free wines and constant search for new ways to grow earned him recognition and a loyal following far beyond his native Moravia. Together with Milan, Alma prepared a compilation of the most interesting wines produced in his "chateau" in Velké Bílovice and will share them with guests during a relaxed evening with the winemaker.
The first part, starting at 5:30 pm, is Early Works, an intimate master class & wine tasting of rare bottles from Milan's private archive. It features a unique and extraordinary flight of 10 wines from 2009 – 2018 vintages, bottles that were in some way pivotal to Milan's winemaking career, selected and commented on by the winemaker himself. This master class will take place in the tasting room in Alma's historic cellar, with a very limited number of seats available due to the rarity of the samples.
From 19:00 onwards, a dinner created for the occasion by Alma's chefs Petr Židek and Michal Daněk and inspired by Milan's wines and vineyards will take place in the restaurant. Don't expect a boring tasting menu with an hour-long lecture – you can look forward to a fresh & casual 4-course meal + amuse bouche + 5 glasses of Milan's top wines, from serious bubbles to his beloved Blaufrankisch.
Purchase your seats for one of the 4 dinner time slots (7:00 pm, 7:30 pm, 8:00 pm, 8:30 pm) and the master class via the purchase form.
Menu
Amuse bouche
MOJE Sparkling Zero Dosage NV

Olomoucké tvarůžky cheese, gooseberry, potato, hazelnut
WTB 2019

Mackerel, cucumber, green strawberry, smoked yogurt, dill juice, verjus
G&T 2019

Aged beef chuck, chard, carrot katsuobushi, black garlic, bone marrow, elderflower
JIL 2019

Almonds, fermented cherries, caraway seeds, black rice, fig leaves, cherry sorbet
ATYP 2

Petits fours
Price per person incl. wine – 1990 Kč
From 9:00 PM, the party and Milan will move to the wine bar in our courtyard. After the meal, it's nice to have a little drink - in polite company, it's apparently called a digestif - and listen to something, so we will be pouring everything we have from the Nestarc family (yes, besides Milan, his wife Mira will also be there, along with her new wine project from wild vineyards). Additionally, we'll enjoy a playlist enriched with Milan's favorite songs.