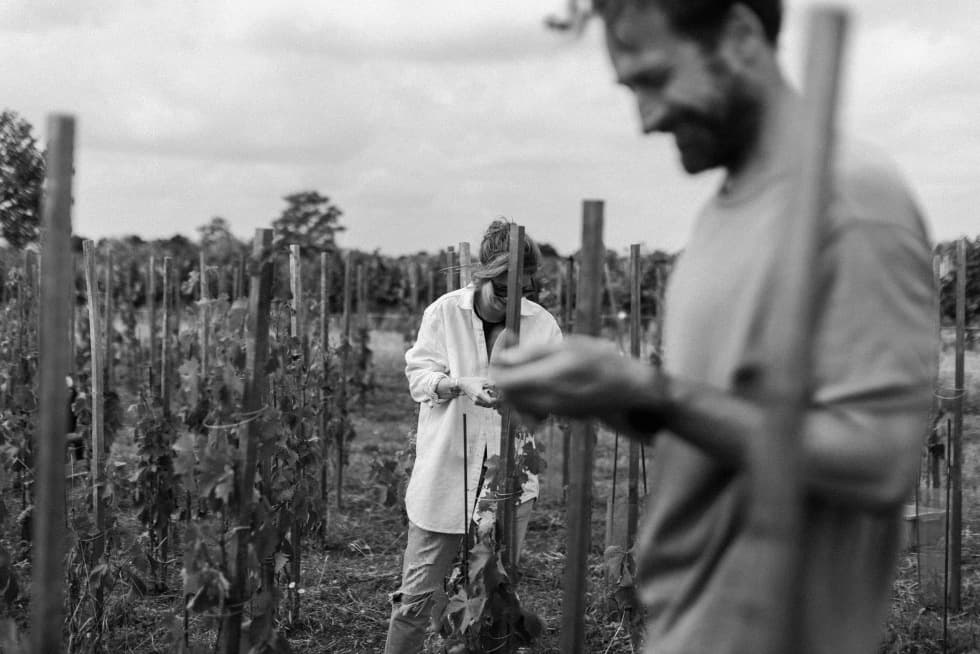 THIS IS gut oggau
Wednesday November 29, 2023
MASTER CLASS/DINNER/PARTY
Alma's This is... series seeks to introduce in detail creators whose work influences and inspires us. For its second edition, we will be meeting with the natural wine royalty: Stephanie and Eduard Tscheppe-Eselböck aka Gut Oggau.
The couple from the Burgenland town of Oggau have become iconic both for their radical approach to winemaking - all their wines are made completely free of sulphur and other additives - as well as for their undeniable charisma and instantly recognisable bottles with portraits of a fictional wine family. All the wines from the "wild youngsters" to the more elegant and mature "parents" are born in Gut Oggau's own biodynamic vineyards and in an old formerly abandoned winery from the 17th century, which the couple bought in 2007 and painstakingly restored since.
You can get to know both the winemakers and their fascinating natural wines in person with us at Alma in several ways:
1) Vintage Masterclass, starting at 5:30 pm, is an Intimate tasting of rare bottles from Alma's and Gut Oggau's archive. Expect a unique flight of wines up to 10 years old, otherwise virtually impossible to come by, commented on by the winemaking couple themselves. This master class will be held in the tasting room in Alma's historic cellar, with a very limited number of seats available due to the rarity of the samples. Price 3013 CZK/pp.
2) From 7 pm onwards, a winemaker dinner with a set menu created for the occasion by Alma's chefs Petr Židek and Michal Daněk will take place in the restaurant. Don't expect a boring tasting menu with an hour-long lecture – you can look forward to a fresh & casual 4-course meal + amuse bouche + 5 glasses of Gut Oggau wines.
- Burnt beetroot amuse bouche, horseradish mayonnaise, black walnut, elderflower capers / Winifred rosé 2022
- Fallow deer tataki, juniper mayonnaise, coriander flowers, spring onions / Atanasius 2022
- Smoked eel, fish stock, turnip, katsuobushi, kale oil, kale chips / Theodora 2022
- Grilled pigeon breast, fried thigh with smoked yoghurt mayonnaise, celery millefeuille, pigeon jus / Josephine 2021
- Puff pastry with buckwheat, poached pear, rosehip sorbet, chamomile kombucha with rosehip oil / Timotheus 2022
Menu incl. wine 2995 CZK pp
To purchase your seats for the masterclass and/or dinner, use our reservation system – simply select the number of covers and follow the booking process to secure your seats. We look forward to seeing you!
AFTERPARTY
The party and Stefi & Edi will both continue in Alma's wine bar - look forward to a casual night cap with a variety of Gut Oggau wines by the glass, small bites to eat and a DJ. (Free admission, pay what you drink. Winebar will be open at 5:30 pm already.)